April Lemarr is a name you may know from the PLR world. She recently launched a Canva templates site called Your Essential Toolbox. This is where you can get customized Canva templtes to use in your business. She's got a new bundle of templates out that I've got my eye on. Her "Canva Templates Pack 2" gives you some nice choices to use in your document designs.
Here's a visual of ONE of the many templates included with this pack. You'll find Financial Planning Templates, Menu Planning Templates, Checklists and Cheat Sheets, Worksheet Pages, Time Management Pages, E-Covers, Lead Magnet Layouts, Social Media Mockups, and Pinterest Pin Mockups.
These are the Menu Planning Pages. Each template design is different from the next!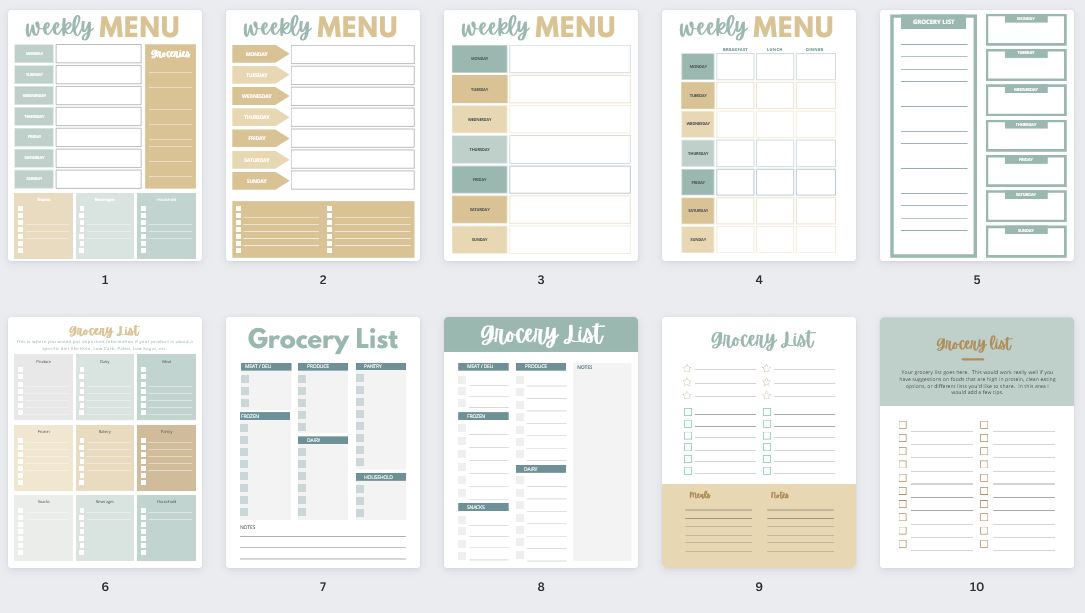 You know those little graphics that other marketers use in their marketing? For example, they're offering business training, so they include a little graphic that's shaped like a computer or phone? Sometimes marketers use those design elements as a frame to insert their own unique images and branding.
Those handy little graphics are included with this Canva templates pack from April. You can pull in your own images to be framed by that little computer graphic. I actually put a question in to April about that, and she definitely said yes, you can do that with these Canva templates. Sweet.
So,  check out these templates. They're great because sometimes trying to find the perfect design template on Canva can be confusing. You'll see one that you might want to try, but then it costs money to download through them, and you're not even sure yet if the design's going to work with what you're offering.
At least with April's templates, you can look at them now, see all the pages and different graphics together, decide if they'd match your marketing and then use them
What can you do with Canva templates like these?
Create your own printables and sell or give away to your list.
Offer the templates as-is.
Create new products, like coaching packages, that include pages from the templates to dress up the design.
Edit the templates by changing colors, fonts, adding pages that you customize the design for, pulling in different graphic elements and images.
Use the templates to design your own e-guides before making into a PDF and selling or sharing.
What's included with the YET Canva Templates Pack 2?
More than 100 Canva Templates (!! what?! Did I read that right?) with a separate pricing option for PLR-only versus PLR Resell License.
---